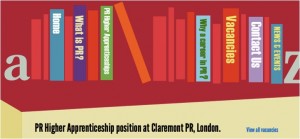 The debate over the need for formal Apprenticeships in PR has been going on for over three years.
But in recent months, thanks to funding from the National Apprenticeship Service and commitment from the country's biggest PR agencies, all in-house and agency teams can improve the diversity of their workforce by hiring a government funded apprentice.
We launched our Higher Apprenticeship job advert yesterday and we are clear that this isn't going to be a cheap substitute for graduate recruitment, but a real opportunity for a motivated young person to start their PR career without having to incur the debts racked up at university.
But in return we are asking for a lot.
We need someone who is ready to work from day one.
They must have a strong demonstrable interest in news, current affairs and politics, a passion for using social media and understanding of the role of digital communications.
So not only are we looking for an excellent writer and verbal communicator, but in keeping with Claremont's approach to marketing, we also need an apprentice who uses social media (appropriately!) and has experience of using digital communications channels.
Yes, we are asking a lot. But we believe the rewards for the successful apprentice will be a great career with real progression and, for Claremont, the apprentice will assist in our plans for sustainable growth.
To apply, please submit a CV and cover letter via the PR Apprenticeships website.
And if you want to see what a PR apprentice can do, take a look at the story of Anna Appleton from Bentley Motors below – shame she's already been snapped up.
​Update: ​Applications are now closed. To see other PR Apprenticeship vacancies, please visit www.prapprenticeships.com.

Declaration: Simon currently advises the National Apprenticeship Service on communications, but this post has neither been instigated nor approved by the Service or its partners.