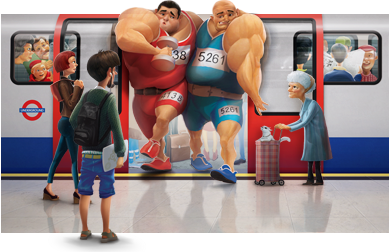 If you get ten comms people in a room, you'll get ten different opinions on the relative success of a rival's campaign.
But new research by industry body the PRCA shows eight in every ten industry leaders agree that Transport for London's 'Get Ahead of the Games' campaign has been effective at warning commuters about Olympic disruption.
In fact, the concern is that this Olympic PR campaign has been overly successful – leading to deserted streets in central London, empty tube trains and unhappy high street stores.
As a demonstration of a mass behavioural change campaign, Get Ahead of the Games has been a massive success. The integrated advertising, digital, email, PR and on-the-ground campaign has hit all of its targets so far.
From the Boris Johnson announcements at stations, to daily email updates on transport hot spots, infographics, a digital interactive map and plenty of mainstream media coverage, no commuters can say they weren't warned of impending disruption.
So the high streets should have twigged that they may have a problem sooner.
Some boroughs, like Richmond, planned ahead and launched discount booklets to encourage one off spectators at the Cycling Road Race to return throughout the Games.
And those retailers and councils who have been slow on the uptake need to take action. Rather than sit back and moan about the problem, tackle it.
Use digital, social media and PR to get on the front foot. Stores should work together and introduce some headline grabbing initiatives like a 20% blanket discount. Hotels should offer to refund train travel on new bookings from other parts of the UK, restaurants should give a free drink to every diner who shows them a tube ticket.
While TfL were effective in changing travellers' behaviour, now it's the high street's turn to stop blaming consumers for not turning up and start winning them back.