Last week, Westboro Baptist Church became the latest brand to fall victim to brandjacking – a perfectly legal prank where online rivals set up satirical impostor social media accounts.
Such stunts may seem harmless – but the wider brandjacking trend is making it incredibly hard to protect your reputation online. How can you avoid being brandjacked? What can you do if you are already a victim?
It was widely reported in the media last week that Westboro Baptist Church's Facebook page had been hacked by the hacker collective Anonymous.
It looked legitimate. In place of standard issue homophobia, the page featured quotes from the Dalai Lama, cute pictures of animals captioned with LOLSpeak and nerd-culture ephemera.
However, all was not as it seemed. Anonymous had created the page months in advance. Westboro Baptist Church hadn't been hacked – they'd been brandjacked.
What is brandjacking?
When the term brandjacking was coined (in BusinessWeek in 2007), it referred to 'abusive' domain name registrations and counterfeit goods. In the era of social media, brand reputations are even more vulnerable.
Brands have large online followings – and interest can spike during a major news story. What's more, as the Westboro "hack" proves, a hacker doesn't need access to your official profile to mess with your brand.
@BPGlobalPR
In 2010, the @BPGlobalPR parody Twitter account gained over 150,000 Twitter followers over the course of the Deepwater Horizon oil spill with rampantly insensitive tweets such as: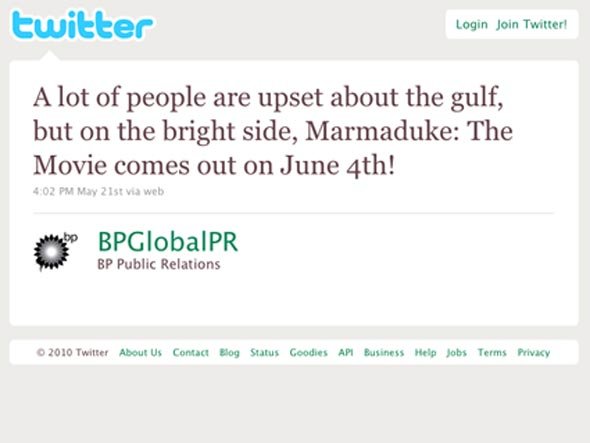 This parody account currently has three times as many followers as BP's official @BP_America account, and outranks it on Google.
Shell ArcticReady.com
The most elaborate brandjack to date came at the hands of Greenpeace. Greenpeace created a fake "Shell in the Arctic" site called ArcticReady, with blatant anti-environment messaging, and allowing users to create their own mock Shell ads. Visitors continue to be duped by it to this day. Spot the difference?

Anyone can be a brandjacker
Today, anyone can be a brandjacker. Services like "Let Me Tweet That For You" allows you to type in a Twitter username and generate a realistic-looking Tweet from that person – whether it's Justin Bieber:
or Claremont Digital Director Simon Booth-Lucking: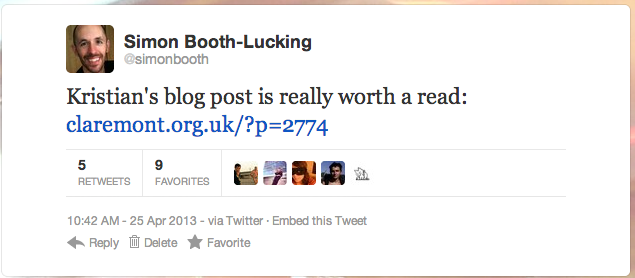 Ironically, we considered doing something very similar for our "Crisismas" seminar on social media crises. We created Moo business cards with a simulated "crisis" tweet on them to challenge attendees how to react.
We decided not to go ahead with it in the end in case some of our attendees didn't get the joke. However, the threat from this kind of brandjacking is very real – especially if a fake tweet 'image' was passed off as evidence of a deleted tweet!
It's perfectly legal – so what can you do?
What's more, because such efforts fall under the category of satire, "brandjacking" counts as fair use, and is therefore allowed under major social networks policies. Asked whether the Westboro page would be taken down, a Facebook spokesperson told NBC News:
"It will depend on the content, admins, and the reports we receive, there's no simple answer for the time being and the decision will be based on multiple factors,"
Use listening and monitoring tools – Be aware if there are 'fake tweets' out there by listening for mentions of your brand with tools such as Gorkana Radar.
Consider your options for getting the content removed – Is the content libellous, or merely satirical? Will responding via a comment (or legal action) make it better, or worse?
Make clear through official channels that the content isn't true – Make clear through your own, official channels that you are aware of the fake content, and that it is not true.
Approach Twitter for verification – Twitter does have a process for verifying accounts as "real," although this too can be faked (see How to Become Internet Famous Without Ever Existing)
Build your official channels – If you're in the middle of being brandjacked, it's probably really too late. The best way of avoiding a brandjacking is building a strong community through your official channels.
For more information on how to avoid brandjacking, take a look at our Social Media School.