1. Do get your timing right –
Planning a social media campaign? Then maybe bear in mind how the news agenda may be impacting on your customer base when you decide to kick off your engagement. You may find the mood of your audience is not quite what you were expecting – just like British Gas did when they decided to helpfully host a Twitter Q&A right after they'd announced their most recent price hikes this winter.  #fail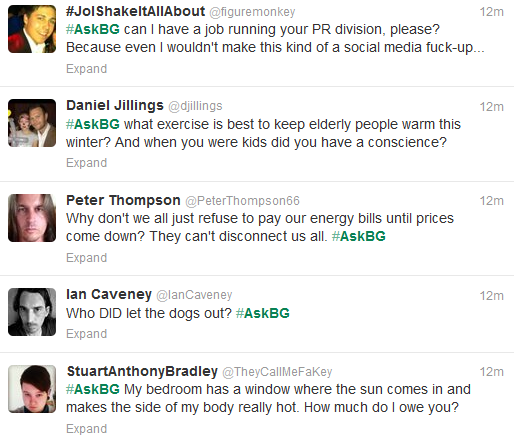 2. Do talk to your audience in their own language –
Entering into a dialogue with your audience is something consumers are coming to expect, if not demand, from brands who are active on social media. When this goes right it can not only result in happy customers but in kudos for brands being human and engaging on a more personable level.  Netflix won plaudits this year for turning a standard customer service conversation in to something light hearted and amusing whilst retaining the primary goal of helping the consumer. On the other hand Bank of America found out that nothing infuriates a customer more than an automated (or in this case lack of judgement) response which does nothing to help. #win and #fail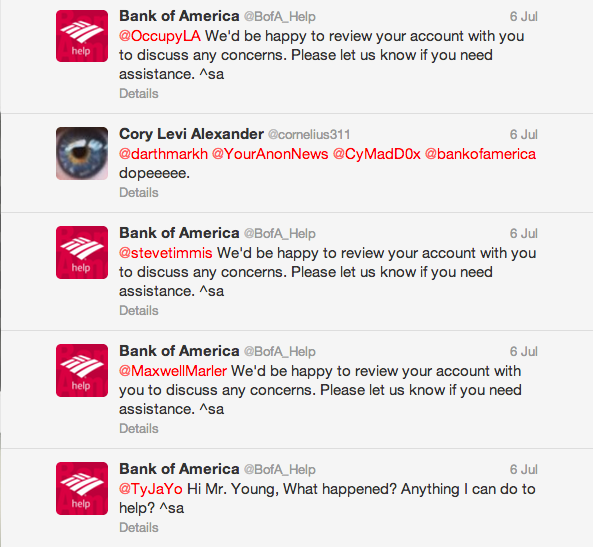 3. Do brief your staff about expected social media conduct (oh and think through your reactive statement before you issue it) –
The question of where to draw the line between the point personal views meet professional tweeting is an often asked one, but when an employee (whose job was in Corporate Comms!) of US firm IAC tweeted this in late December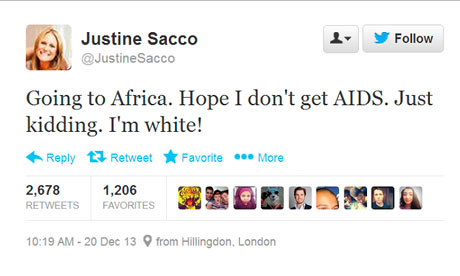 The inevitable Twitter storm erupted.
What made matters worse was the statement from IAC telling the world that the employee in question was on a long flight and the matter couldn't be dealt with immediately. It has since transpired that the employee has parted company with IAC but not before the hashtag #hasjustinelandedyet had been trending worldwide.  #epicfail
4. Do think before you type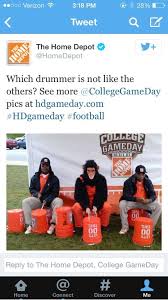 Tweets can be deleted so mistakes can be hidden right? Wrong. There's always someone who will see it, screen grab it and if contentious enough, have it viral around the world within a matter of minutes. So always take a moment to ensure your social media post is not inappropriate and/or likely to cause offence to like, millions of people. The Home Depot discovered this when they decided it would be a great idea to post a racist photograph on their Twitter feed . . . #fail
5. Do always check you have the right twitter handle when @ing an individual –
Making the effort to engage and include people on Twitter is what it's all about. It can make your message go further and make you seem collaborative. But not when your message goes to the wrong person, particularly if you are David Cameron and the person you mistakenly include is not a political colleague but a spoof account who goes to town with their response. #fail
Don't:
1. Don't ever close – the internet is open 24 hours –
Having a community management team to run your social media is to be commended, and many brands do this incredibly well. However, if you have chosen to go down this route and your business is one which consumers use (and therefore may have issues with 24/7) – then why would your internet presence only be accessible during office hours. British Airways learned this lesson the hard way when one disgruntled customer paid for a promoted tweet to be seen by over 70,000 users and they didn't respond for several hours. #fail
2. Don't take life too seriously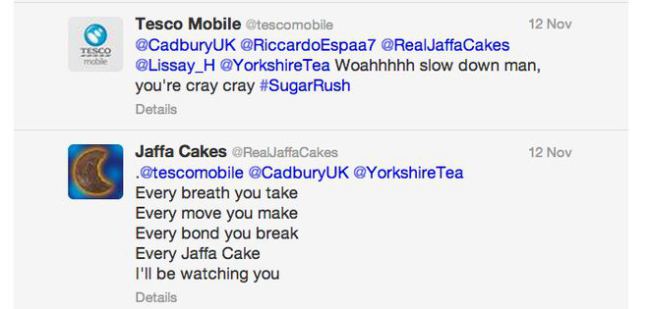 Consumers increasingly want brands to be human, and engaging in conversation with automated tweets and robots can be infuriating. What's more, while social media can be a fantastic tool for getting news and serious messages out there, it was spawned from the need for people to just hang out and chat. So it's not difficult to see why this conversation between Tesco, Jaffa Cakes and Yorkshire Tea amongst others, was so well received by an amused audience. #win
3. Don't have easily hackable passwords on social media accounts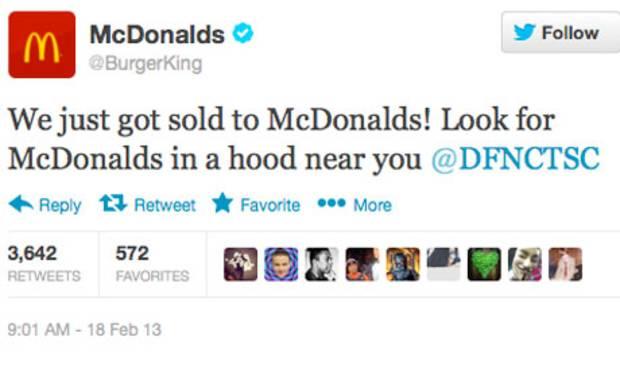 You've spent months, if not years, cultivating your social media following, finalising your messaging and your protocol for how and when to respond. But you've overlooked making your password secure and it all comes crashing down in minutes when a mischievous hacker gains access to your feed and has a field day – as Burger King recently found out when someone hacked into their feed and changed their logo to that of rival McDonalds.
4. Don't swear too much . . . 

Being human and not too corporate is one thing, but boundaries are still important and bad language can invoke a big reaction. Especially when said language is the C-word and is aimed at a 9 year old as US entertainment newspaper, as The Onion, found out when they were a bit too eager to 'overshare' ahead of the Oscars ceremony.
And finally . . . .
5. Don't underestimate the power of the internet –
Not an example of a brand doing social media well, but a reminder not to forget the power of the internet. Everyone loves a good news story and this heart warming tale of how social media reunited a young girl with her favourite toy after it was lost on a train demonstrates just how powerful and effective social media can be when people are engaged. #epicwin