In an industry that sometimes struggles to prove its effectiveness, one Claremont campaign helps answer the age old question 'why do PR'.
Last weekend the government announced that as a result of Tomorrow's Engineers Week, the number of young people interested in a career in engineering has seen a sharp rise – by 6 percentage points (from 50 to 56% agreeing they would consider a career in engineering).
Among 11-14 year old girls, the 6 percentage point rise is even more significant as it is a  jump from 35% to 41% interested in pursing a engineering career.
Government and industry launched Tomorrow's Engineers Week following the Perkins Review of Engineering Skills, which focused on the need to shore up the pipeline of skills throughout the whole engineering sector. As Chief Executive of EngineeringUK, Paul Jackson, said:
Tomorrow's Engineers Week is an example of the positive impact that can be made when organisations work together. The Week has proven an effective calendar item for raising awareness of engineering careers and EngineeringUK will be delighted to coordinate it on behalf of the engineering community in 2014.
So for a campaign that set out with three clear objectives we've now got the proof we hit all three – and on a modest budget: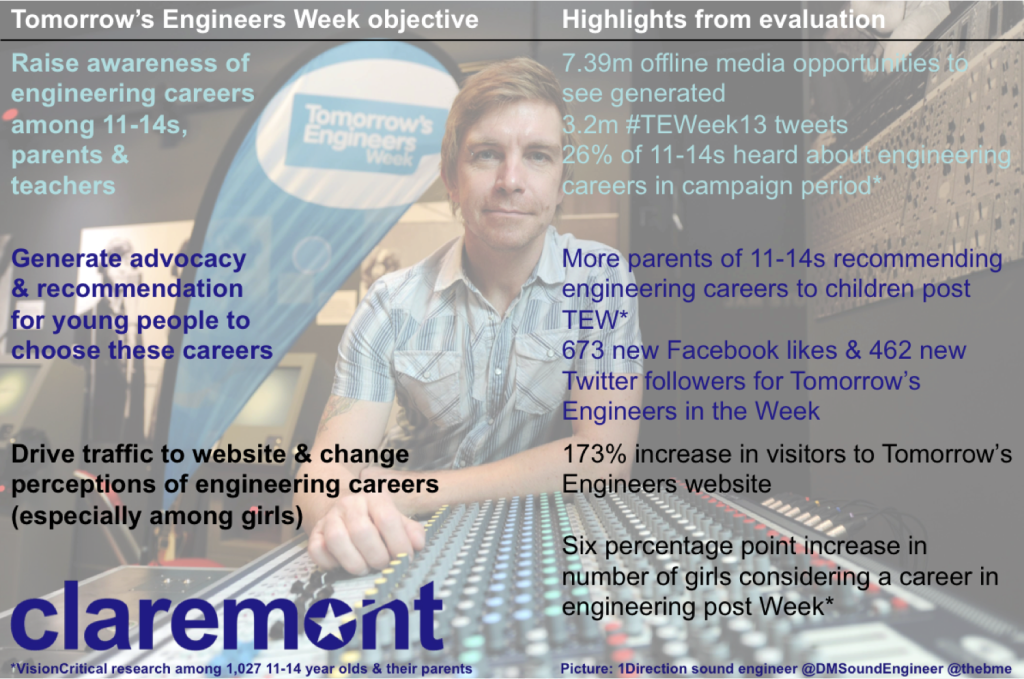 An amazing result, only made possible thanks to our partnership with Tribe PR and On Broadcast, working closely with the Department for Business, Innovation and Skills, EngineeringUK and other stakeholders, many of whom delivered outreach activity direct to young people, reinforcing the PR activity on the ground.
As Secretary of State for Business Innovation and Skills Vince Cable said:
As a country we excel in hi-tech industries but we need the engineers to maintain our competitive advantage. Government alone cannot solve this. We need to work with industry, universities, colleges and schools to keep momentum and guarantee the pipeline of talent so that businesses are not disadvantaged. It is encouraging to see that our efforts to highlight the importance of engineering as a career has had a positive affect and that more women and girls are seeing it as an exciting career.
So why do PR? To get results that will increase the chances of young people working in a sector that will help the UK economy and avoid creating future skills gaps.
For more information on Tomorrow's Engineers visit: tomorrowsengineers.org.uk