Things are really hotting up in the Claremont kitchen
Since the start of the World Cup 2014 people have been taking part in a cooking contest which challenges their geographical knowledge and international culinary skills as they battle it out to become 'Claremont's World Cup Bake Off ' winner for 2014. Put that on your CV.
It's our extension of the traditional office sweepstake; yet another way to engage in the World Cup and has become a firm fixture for the next few Thursday lunchtimes.
How?
People have selected a country at random which they represent, in a culinary fashion, when their country is chosen to play (cook). For example if you get England you might cook up a great big Yorkshire pud, if you get Bosnia and Herzegovina, well you panic slightly.
Post Match Analysis for Week one: Thursday 20th June
GROUP 1 – Japan | Chile | Ghana | Algeria
With an unfortunate last minute injury from Algeria the group was down to just three teams but nonetheless, morale was high amongst the remaining contenders.
Japan kicked things off with delicious white crab meat, served with a swoosh of wasabi mayonnaise and a little bit of seaweed being played on the wing. The crowd went mad.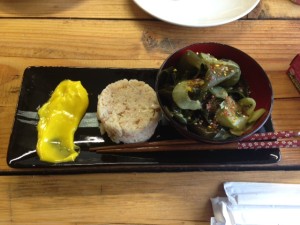 Towards the half time mark things spiced up a little with some spectacular empanadas from the Chilean side…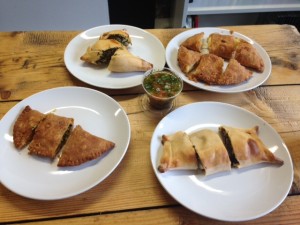 ..and as things couldn't get any better we saw a final strike from Ghana who shot in with a traditional family favourite of lamb stew and coriander couscous. Back of the net.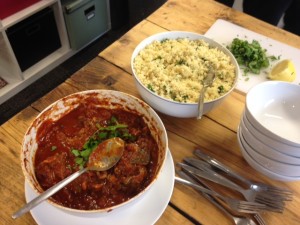 What a feast. Even Suarez could get his teeth into that.
 The winner?
Congratulations to Ghana who goes on to the final round in early July to play the other three finalists.
For regular updates and a weekly post match analysis follow #worldcupbakeoff.
Stay posted for the results of round two…