I've been reflecting on and discussing the PRCA's 2014 Digital PR report since its launch last week. Others have written interesting things about it.
The report has intriguing things to say about the digital state of the familiar client-agency coupling. Yet it has less to say about the third party who is now an inseparable part of that relationship. More on them later though.
How are the old couple getting along?
As shown in the chart below, agencies are offering services in lots of digital areas but clients only really want help with a few. In-house teams have more confidence that they can do digital themselves.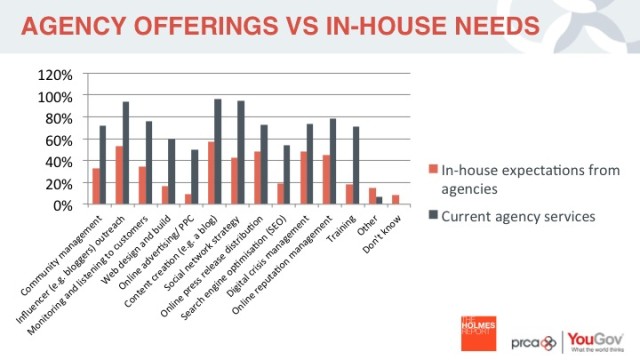 Increasingly social channels are managed by dedicated in-house teams. This is a good thing and when possible we prefer to focus on social media training for clients rather than tweeting for them. (Although where clients need help to achieve a specific goal we still work hand-in-hand with them.)
However, two areas where client teams say they need a bit more help around the house are online reputation management and content creation. So, download a little digital upgrade to the reputation and content services and everyone's happy, right? Blogs monitored? Check. Campaign hashtagged? Check. Domestic bliss restored?
Well maybe for a bit.
Enter the third party
Pulling up their chair at the kitchen table is the person formerly known as the audience. And they've got something to say about the way online reputation and content is done around here. In digital terms we'd call them the user.
(BTW, user is a problematic word but will have to do for now.)
First, reputation. Thanks to digital technologies users are active participants rather than passive audience. Their perception of an organisation is shaped by the interactions they have with its products and services as much, if not more, than what they see in traditional media. Those perceptions are then, of course, shared with friends through social media.
Months of careful reputation building in the media can be ruined by the website going down at the critical moment. The brilliant launch coverage can be undermined by the poorly designed landing page. Because of this, managing a reputation starts to have a lot more to do with customer experience and service design.
How many PR agencies are comfortable talking user journeys and server loads? How many in-house teams are integrated enough with customer service and product development?
Things get more complex when the user gets involved in the storytelling. There's often a tension between the top-down, controlled storytelling of messaging and media relations, and the bottom-up, crowd-sourced storytelling of memes and networks. For every brilliant Dumb Ways to Die there are a thousand social media fails.
How many PR agencies have the planning and co-creation capability to create a (love) story big enough for both an organisation and its users to believe in? How many in-house teams are working to make their organisation "always on", with more transparency and user connection instead of more filters?
It's time to embrace your love triangle and let users into digital PR.