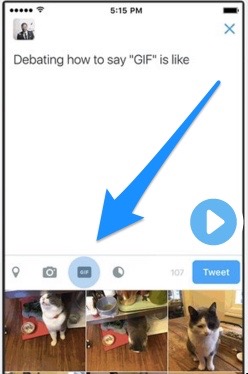 Get ready for some gif-ing awesome news.
Twitter has started to roll out a new gif search button in your Tweets and DMs. Whenever you are composing a Tweet or DM you can now search the gif library, which draws content through from GIPHY and Riffsy.
People on Twitter shared over 100 million gifs in 2015 alone and you can expect to see more popping up in your stream: companies like GIPHY are turning increasingly to integration with platforms like IFTTT, Slack, MailChimp and Kik, to name a few.
Gif search will be rolling out over the coming weeks to everyone around the world on iOS, Android and desktop so keep an eye out.
Prepare yourself for new levels of Beyonce, pizza and cats.