Recruiting volunteers for a major cancer trial
for
NHS-Galleri Trial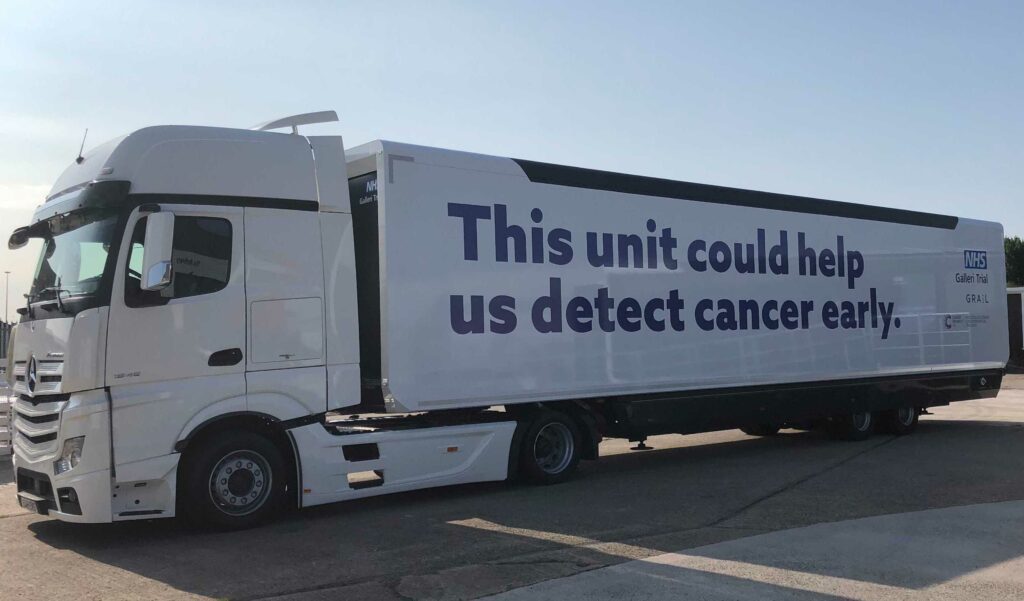 Imagine a world in which cancer could be picked up early by a simple blood test on the NHS. That world may not be so far away from becoming reality. Galleri® is a ground-breaking new blood test developed by the company, GRAIL, which is capable of detecting more than 50 types of cancer, often before symptoms appear.
In summer 2021, GRAIL partnered with NHS England and King's College London's Cancer Prevention Trials Unit to launch NHS-Galleri: a large-scale trial to recruit 140,000 volunteers from eight regions of England, to evaluate how well the test works in the NHS. Claremont was appointed to develop and run the communications programme to support the trial.
We conducted qualitative research among the public to understand attitudes to the test and the trial, followed by public focus groups and interviews with leaders from the eight participating Cancer Alliances to inform the name of the study, the branding and key messages.
Our message framework articulated the what, why, who and how of the study, with the overarching proposition 'Let's detect cancer early'. We ensured this came through strongly via every communications channel and participant interaction – the ad campaign, participant materials, website and the mobile units in which blood samples would be taken from volunteers.
Our branding used warm, restrained colours and simple, uncluttered designs, which was even applied to the interior of the mobile units. We partnered with William Joseph to build the study website, ensuring the messaging was adapted to this context and the journey was optimised to ensure a smooth user experience through to registration. We produced a range of audio-visual assets, including two animated films and a film featuring interviews with lead representatives from the partners behind the trial.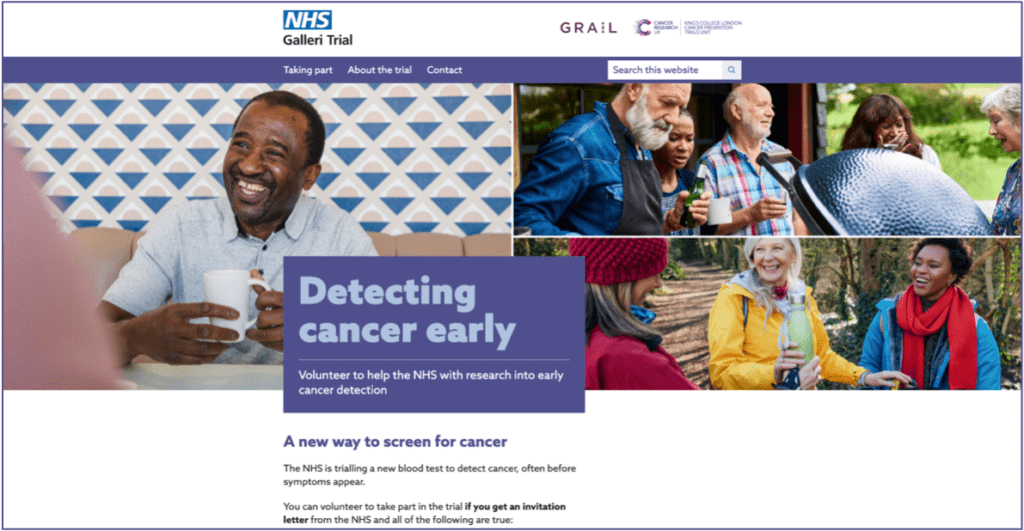 We managed a range of stakeholder relationships to deliver the project, including working closely with the eight cancer alliances to ensure they were equipped with the tools and content they needed to engage the public, health professionals and community organisations in their regions. These included posters, slide decks, newsletter copy, GP information sheets, template press releases, social media assets, Whatsapp graphics and even scripts for community leaders to record their own 'endorsement' videos.
Working alongside NHS England, we achieved a huge impact at the launch of the trial – with widespread media coverage across national, regional and some international media, including front page coverage across several national papers. Senior leaders from NHS England, GRAIL and the trial's lead investigators were busy fielding interviews all day. The coverage drove over 3,500 calls and 11,000 web visits from potential volunteers on the launch day alone.
The trial met its goal of recruiting over 140,000 within a year and succeeded in ensuring strong representation from ethnically and socially diverse backgrounds, in part thanks to focused community engagement and media work Claremont led on. We continue to roll out regional engagement activities as the trial seeks to retain these participants for their return appointments.