Developing a message framework and toolkit
for
Alzheimer's Research UK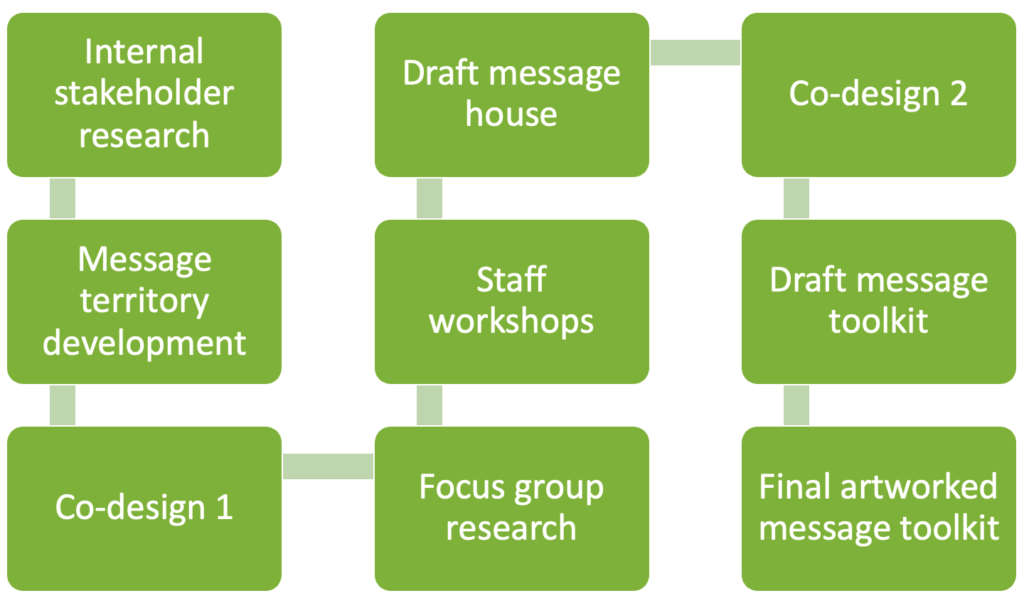 Background
For Alzheimer's Research UK to achieve its mission to bring about the first life-changing treatment by 2025, engagement is vital.
The UK's leading dementia research charity has made it a priority to better understand its audiences, ensuring supporters are at the heart of its activities, so that the organisation is truly audience-led.
Alzheimer's Research UK had previously undertaken research that found the charity's supporter audience could be broadly segmented into six groups identifiable by shared values, attitudes and the ways they prefer to engage with the charity.
The aim was for internal teams at Alzheimer's Research UK to be able to use this better understanding to communicate more consistently and effectively with supporters, recognising their different requirements of charity communications and services.
Our brief
In Autumn 2020, we were asked to review the charity's messaging frameworks to consider how these may need to adapt, based on the research findings. The overall objectives were to increase engagement with supporters, and drive engagement and consideration among new audiences, to enable Alzheimer's Research UK to grow support and, ultimately, achieve more in vital dementia research.
What we did
Throughout the process to create a new, enriched message framework and toolkit we used co-design and co-creation to involve users and audiences as our partners.
Alzheimer's Research UK staff, warm supporters and 'cold' audiences – people who had also been affected by dementia but did not (yet) support the charity – brought their professional expertise and lived experience. Our role was to provide behavioural theory and communications expertise, working independently as well as through our co-creation sessions.
Together we worked to create, test, validate and refine a set of core messages for Alzheimer's Research UK through a process of desk research, stakeholder interviews, 12 audience focus groups, two audience co-design sessions and two staff co-design workshops, which took place online.
What we learned
Across the sessions with different groups of warm supporters and potential audiences, we learned a rich range of insights which we analysed and built on through the messaging development process, and tested against our behavioural frames, working independently.
The good news for Alzheimer's Research UK is that its audiences were positively engaged by its cause and being invited in to play their part – whether supporting research, volunteering, fundraising or a mix of these. By including its supporters and sharing the journey with them, Alzheimer's Research UK can draw on a huge base of support.
Bringing it all together
We shared insights from the audience focus groups in two staff workshops to co-design the message framework, ensuring our end-users played a key role in shaping the final product, along with their early input. Our original audience co-design group helped to validate, and fine-tune the product.
In the final stages, we continued to apply behavioural insight to the toolkit content and design, to create a user-friendly product that has been incorporated into core staff asset for Alzheimer's Research UK.