Raising awareness of brain health
for
Alzheimer's Research UK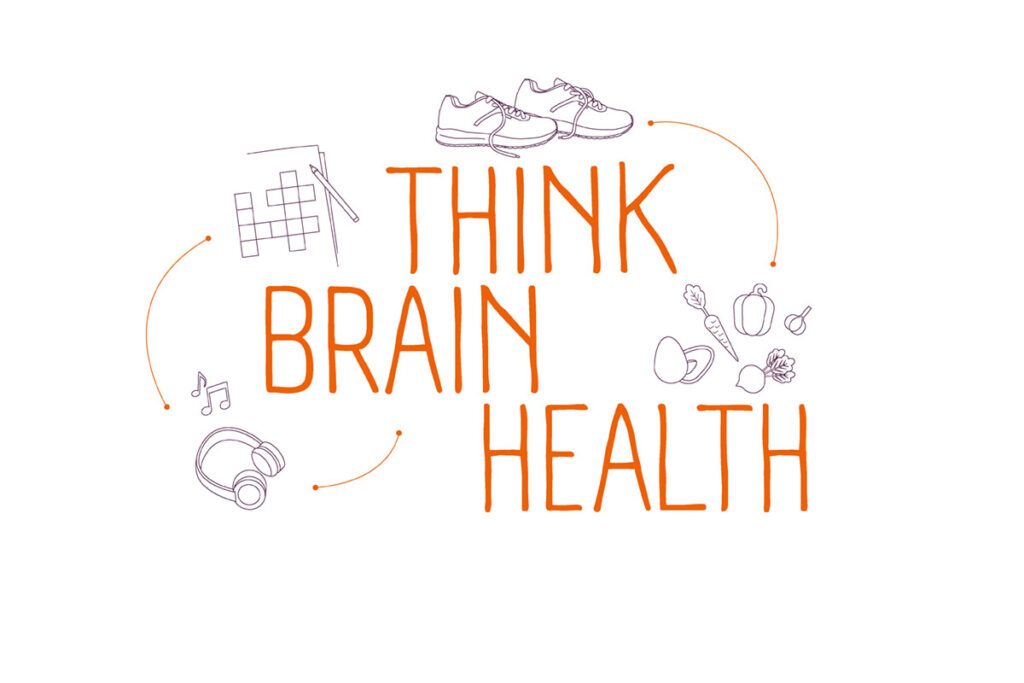 Dementia terrifies people. It's right at the top of the list of conditions nobody wants to get. Yet we spend very little time talking about what we can do to prevent it.
Alzheimer's Research UK came to us wanting to change this. Because dementia should not be seen as an inevitable part of getting older.
According to their 2018 Dementia Awareness Monitor, just 34% of UK adults think it's possible to reduce their risk of developing dementia, compared to 77% who think they can reduce their risk of heart disease. This is despite strong evidence showing you can reduce your risk by keeping your brain healthy, just like your heart.
This is especially important for people in their 40s and 50s, who stand to gain most from adopting healthier lifestyles.
We launched Phase 1 of the campaign in January 2021. We took a co-design approach, working with a group of people in their 40s and 50s who matched this audience profile over four workshops to explore territories, develop propositions and narrow down to a single creative route. In tandem we worked with two of the charity's partners, Park Run and Warburtons, to get a fresh perspective from their runners and employees respectively.
We agreed together that we didn't want doom and gloom. We didn't want Alzheimer's Research UK to join the long list of organisations lecturing people about how to live their lives. We didn't want to just give people another burden. We wanted to develop a campaign that was fresh, positive and friendly. A gentle conversation starter designed to draw people in.
Think Brain Health was born. It celebrates all the incredible things our brains do for us. From storing precious memories to controlling our emotions, movement and speech. And while it raises the threat of dementia taking all that away, it focuses on empowering people to believe they can take steps to reduce their risk.
The results of Phase 1 were hugely encouraging, with the campaign responsible for over half of the charity's web traffic in the first 3 weeks — the vast majority of whom had never visited the site before.
We launched Phase 2 in February 2022, retaining the same style and upbeat tone. This time, informed by phase 1 insight and a slightly adapted audience focus, our creative focused on a series of brain health tips, giving our audience practical advice about how to reduce their risk of dementia.
We produced 40 tips across three brain health pillars: staying heart healthy, keeping connected and staying mentally sharp. The campaign ran across digital, social media (generating 350k clicks through to the website) and radio, via a partnership with Smooth FM.
Tim Parry, Director of Communications & Engagement, Brand and Digital at Alzheimer's Research UK said: 
"Alzheimer's Research UK has worked with Claremont Communications across a raft of strategic, insight and creative projects in recent years, from audience segmentation to campaign development. We always find the friendly, thoughtful team to be collegiate in their approach, creating a genuine sense of partnership.
They're respectful of our subject matter expertise while bringing an objective eye to our work and encouraging some divergent thinking from us.
Claremont also bring a rigour to their process with their emphasis on co-creation and insight deriving from the audiences we are seeking to reach. It gives us the confidence that our strategies and creative decisions are evidence-based and more likely to find favour when launched. This has been borne out by impactful campaign activations that have consistently exceeded our expectations.
The team at Claremont are well known across Alzheimer's Research UK from their workshops and facilitated discussions with colleagues. This has earned them a strong reputation at the charity right up to board level. Thanks to our work with Claremont, we have never had a clearer picture of who we talking to and how to talk to them in a way that influences their behaviours and actions positively."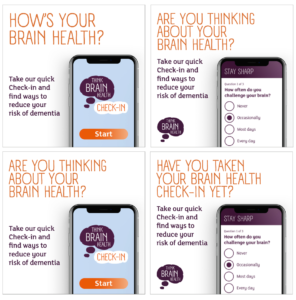 In January 2023, we launched Phase 3. We created our first product, alongside partner agency William Joseph, moving Think Brain Health from an awareness raising campaign and into real behaviour change territory.
After extensive user testing and working with a panel of experts, we developed the Think Brain Health Check-in. The Check-in is an online tool that helps people to explore their brain-health behaviours. The tool provides personalised guidance on simple lifestyle changes that the user can make to better their brain health.
To-date, the Check-in has received over 250,000 completions. We've seen coverage on a host of national television stations and in worldwide press, including BBC, ITV, The Times, Sky, Bloomberg and the US Sun.
We also created an onward email journey, and encouraged users to pledge a brain health goal. We look forward to continuing our work with the charity by sharing the tool with underserved audiences. You can try the Check-in for yourself here.