Reducing drink driving over Christmas
for
Sussex Police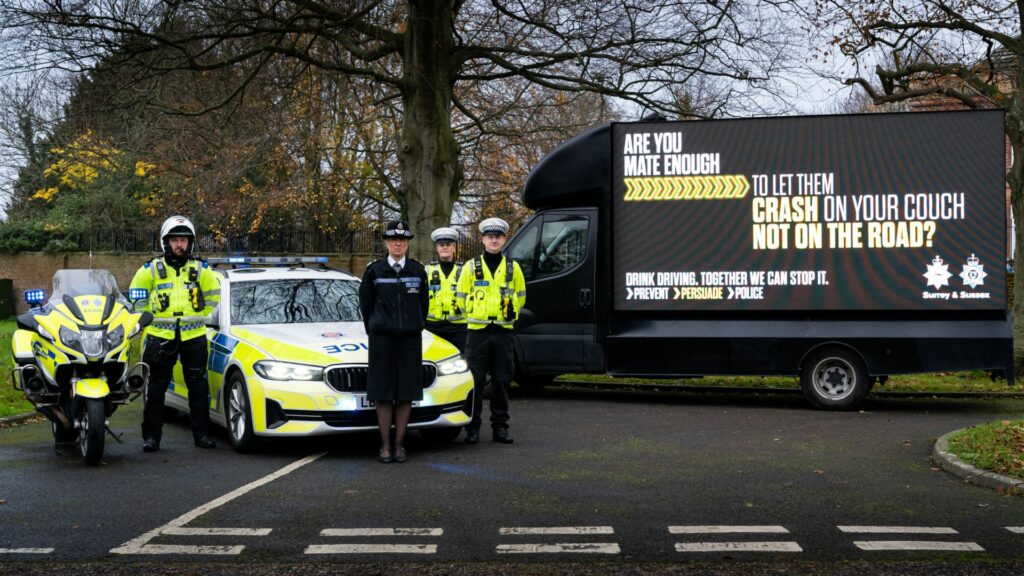 The latest data makes for disturbing reading. Deaths and serious injuries from collisions involving drink drivers are up sharply on 10 years ago. For some drivers, the social stigma of drink driving has faded to the extent they're now routinely driving home whilst under the influence on a regular basis.  For a significant cohort of male drivers in rural and semi-rural areas, drink driving is a normalised habitual behaviour.
These drivers know what they're doing. They're having a few and then needing to get home and their car's outside. They don't believe they'll be pulled over and they don't believe they'll have a crash.
Raising awareness wasn't going to cut it – a new approach was needed. And Sussex Police needed us to move quickly, with Christmas just eight weeks away.
We looked outside the subject of drink driving, which resulted in an early breakthrough when we examined the latest work combating harassment of women and girls, specifically the emerging field of 'bystander activation'.
We pre-tested our ideas in focus groups of people, recruited to match the offender profile as well as bystanders – peers, friends, family members. The focus groups resulted in a clear signal: we were on to something. Our approach had the power to cut through and elicit a powerful reaction. Empowering bystanders could not only get people talking about drink driving, but prompt behavioural reactions: to take practical steps to prevent, persuade and, if necessary, report drink drivers to the police.
We worked with Sussex Police and our consultant psychologist Padraig to create a new behaviour change campaign: 'Drink Driving – Together We Can Stop It'. Our aim was to help reduce the number of people killed or seriously injured by drink drivers in Sussex and Surrey.
The core proposition of the campaign is that stopping drink driving is a shared responsibility, aimed at the friends of people who drink drive. It prompts them to speak up and play an active part in preventing drink driving. To achieve this, we used a three-step strategic approach:
PREVENT drink driving through by asking people to plan their transport arrangements when organising a night out.
PERSUADE drink drivers to take an alternative course of action when the option to drink drive becomes likely.
POLICE – encourage the public to have the courage to report drink drivers for enforcement action if the first two steps haven't been effective.
A national survey was commissioned to gain a better understanding of the public's views, attitudes and behaviours towards drink driving. We then ran a multi-channel campaign including PR, digital, out of home and in-pub formats (like beermats). We also created a toolkit which was picked up by 11 forces across the UK, who ran the campaign locally.
The results were impressive. In total, officers made 369 arrests in the relevant area over the Christmas and New Year period. This is a 10% reduction on last year, which was a real achievement given the short length of the campaign. We saw significant media interest, including BBC Breakfast, ITV News Meridian and Heart FM. We also reached over 700,000 people in Sussex via social media, and over a million across the country.