It's official – Claremont is a top quality agency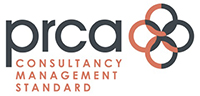 Following a hefty auditing process, Claremont has been accredited with the PRCA's prestigious Consultancy Management Standard (CMS).
For our clients and partners, this basically confirms that we do things properly – campaign planning, people development, financial management, systems for responding to client feedback and a whole bunch more.
From a business development point of view it is about Claremont having the 'hygiene factor', i.e. when we meet people for the first time we don't just look right and sound right, we smell right.
On a personal level, it feels good and I'm proud.  The CMS is official recognition of our professionalism and a signal to the outside world that we mean business.
Onwards and upwards.