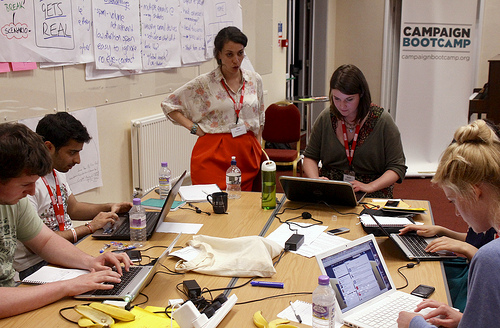 I had the immense privilege of mentoring WordPress at Campaign Bootcamp – a five day residential training session for Britain's most talented young campaigners, and I wanted to share a few thoughts about my experience.
My involvement in Bootcamp began about three months ago, when the Claremont team met with the tireless Katharine Segal and the wonderful Johnny Chatterton to discuss the idea.
At first, I have to admit, the idea seemed completely bonkers. Thirty young campaigners – the UK's most promising – holed up in a conference centre for a week, without much sleep, gathering knowledge it took most of us years to accumulate.
Even as a big admirer of the "crash course" approach, I was sceptical. The sheer depth and breadth of the course was astonishing. Campaign strategy, social, SEO, crisis management – there was even a session on relational databases! How much information can one person take in without sleep?
I pitched up on the day I was mentoring not knowing what I would find. Lots of clapping and cheering. An abundance of coffee cups (and indeed, flasks). The sense of organised chaos. A lot of tired-looking young people. It was only day two – how would the band of campaigners bear up?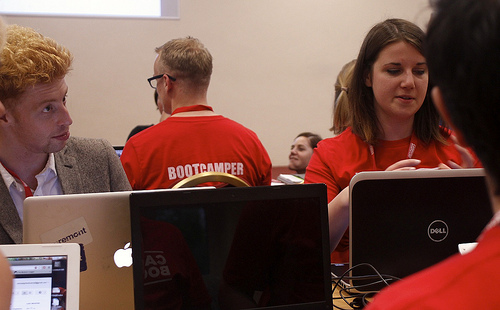 As the sessions continued, I saw people grow. First lines of HTML were coded – "I made it bold!". Putative WordPress websites were created by people with no knowledge of the platform mere hours earlier. I began to field questions about optimising the landing pages. I saw quiet people becoming confident.
And then we moved into a campaign scenario. The town of Fakefordshire and the battle to stop the privatisation of the police force came alive. I could see eyes light up and people coming into their element. Suddenly everything became very task focused. Labour was divided quickly and efficiently. My mentoring became minimal prodding toward a conclusion.
And the warmth in the room! The energy! The passion! The glue of any campaign – the camaraderie – had somehow been recreated. No-one gave a second thought to the fact that it was nearing midnight. Still less that the next day would begin at 7. There was a campaign on.
Simon and myself went along to the closing party, which we at Claremont sponsored. One speech spoke of how they felt the Bootcamp had given them the confidence to go out into the world and change the world. A generation often buffeted by events took control. Another Bootcamp was demanded – by the participants themselves.
I said at the time it was the "best thing I had done all year" – perhaps a brave thing to say during your bi-annual appraisal, but heartfelt nonetheless.
The only question now – how can it be topped next year? I don't know, but I'm sure Kat, Johnny, Casper, Tom and the crew have a plan…