COM-B: HOW WE UNDERSTAND BEHAVIOUR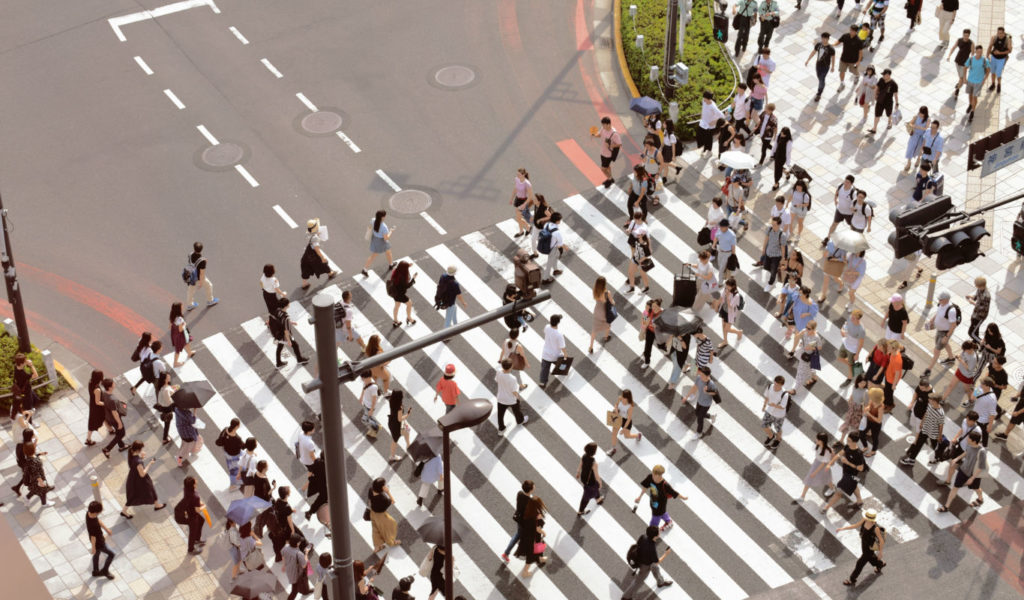 We're all fully aware of what behaviour is right? Behaviour is anything a person does in response to an internal or external event.
Behavioural scientists have developed models to further understand different elements of behaviour. One particularly influential model is known as COM-B. The COM-B model suggests that for a particular behaviour to occur, three essential components are required.
So what are these magic ingredients?
CAPABILITY

the capacity to perform the behaviour – both physically and psychologically

OPPORTUNITY

things outside the individual that make the behaviour possible – including physical resources and social support

MOTIVATION

the drive to want to perform the behaviour – over and above alternatives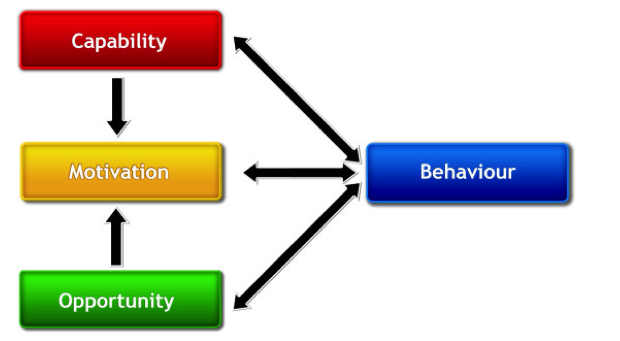 But that's not all…
The COM-B model actually forms the centre of the Behaviour Change Wheel (BCW). The BCW is a handy tool that can be used to effectively guide the development of behaviour change interventions.
Tell me more…
In the BCW, each of the COM-B components are linked to 'intervention functions' and 'policy categories'.
Intervention functions are potential ways to address deficits in one or more of the COM components (e.g. education or training could be used to address a lack of psychological capability)
Policy categories are decisions made by authorities that enable intervention functions to occur (e.g. legislation or service provision)
The BCW maps out which type of intervention function is likely to initiate behaviour change in each associated COM-B component, and following this, which policy categories should be addressed. By using this framework you are more likely to produce effective, theory-driven interventions, grounded in evidence-based principles.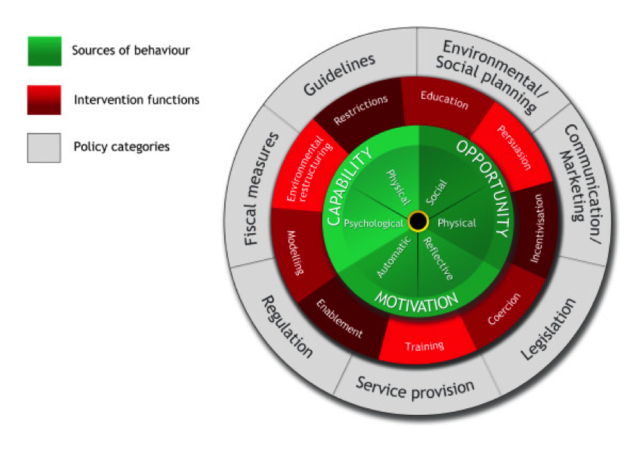 How does it work?
There are plenty of examples where the BCW has been put to good use.
Stop App
The team behind Stop App used the BCW to design an intervention to encourage access to Stop Smoking Services. They first determined the key barriers stopping people from attending Stop Smoking Services, and then carefully targeted the relevant COM-B component with appropriate intervention functions.
CAPABILITY: provision of the information about the benefits of Stop Smoking Services
OPPORTUNITY: inclusion of an appointment booking service on the app
MOTIVATION: enhancing the belief that Stop Smoking Services will benefit the individual
Outcomes: reduced wasted appointments and increased quit rates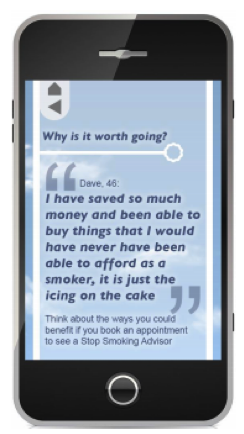 Clean Your Hands
The Clean Your Hands campaign followed a similar process, in order to aim to increase nurses' hand hygiene in hospitals:
CAPABILITY: education about hand washing, goal setting and performance feedback
OPPORTUNITY: provision of alcohol handwash by every bedside
MOTIVATION: posters encouraging patients to ask nurses to wash their hands
Outcomes: the use of soap and handrub tripled and overall infection rates significantly decreased
Blazed and Wasted
The 'Blazed and Wasted' campaign attempted to reduce drink driving in young males:
CAPABILITY: education about how much alcohol is safe to drink before driving
OPPORTUNITY: increasing public transport and serving mocktails in bars
MOTIVATION: modelling the consequences of drink driving
Outcomes: 30% increase in local bus usage and 60% of drivers said they were more likely to use alternative transport
So next time you need to change a complex behaviour, why not try to understand it first using the COM-B model? And if you need to go deeper, head to the Behaviour Change Wheel.