Unveiling Stop MS: a proud moment

Yesterday the MS Society publicly launched its Stop MS Appeal: an immensely ambitious campaign to raise £100m to find treatments for everyone with multiple sclerosis.
It's the biggest campaign the charity has ever attempted – and the most important. The goal is nothing short of stopping the condition in its tracks, so that one day soon, nobody need worry about their MS getting worse.
It has been the greatest privilege of my career to date to have been involved. I recall the time the Appeal was first mooted – back in 2012 when I worked full time at the charity as Head of Communications. Over the following years, the organisation built the infrastructure needed to allow the Appeal to succeed: the scientific plan, the fundraising leadership and networks, the marketing capability and more. This was a big job and it needed doing right.
By the time I left in January 2017 – two years into the Appeal's 'discreet' phase, which has already contributed almost half the £100m target – I felt pleased that I'd played a small part in the genesis of Stop MS but it was time to move on.
A surprise and an honour
So it was a surprise and an honour last year to be asked – as part of my role at Claremont – to take on the job of campaign director for the Appeal's public phase.
The job has involved wearing two hats. Most of the week I work with Claremont clients to ensure my teams are meeting their needs. But in my MS Society role I've had to wear the client hat too: overseeing the work of the charity's excellent media and creative agencies, MediaCom and Publicis Health (both of whom have generously supported the campaign at minimal cost), as well as coordinating the efforts of the charity's impressive in-house talent, spread across multiple departments.
The story we had to tell is incredibly compelling. Today, MS is painful, relentless and exhausting. Tomorrow, the world's leading MS researchers believe we will stop MS – and the MS Society has a credible, innovative plan to accelerate progress towards this goal. It just needs the money to pull it off.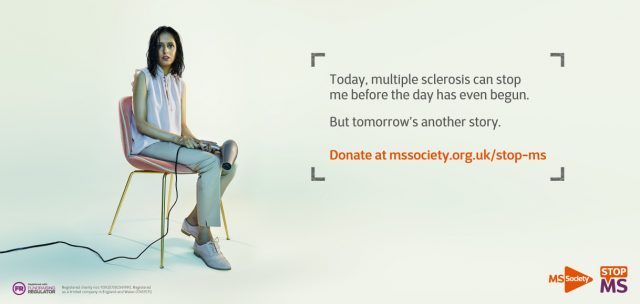 Commitment to authenticity
We've strived to tell that story across multiple channels in a creative, emotive and authentic way. Our TV and print adverts feature only real people with MS, and we've put their varied experiences of MS front and centre.
We've been lucky. Through Publicis Health, we were able to bring on board outstanding partners, including the award-winning film director James Lawes and photographer Andy Lo Po. And through MediaCom, we've secured media space worth many times our actual budget: the campaign will run across TV, VOD, digital, cinema, outdoor and print, with a particularly significant partnership secured with the Telegraph.
At Claremont we often see our role – whether working on strategic comms projects or behaviour change campaigns – as being the strategic glue; the planners who bring talented people together to produce something special. This has never been truer than with Stop MS: my task has been to let loose dozens of brilliant people and to seek to ensure their efforts have added up to something much greater than the sum of their parts.
I hope you like the work. And more importantly, I hope it moves you to donate and share. Because it's a big old fundraising target, and every little helps.