Reviewing our event: Can AI help change behaviour for social good?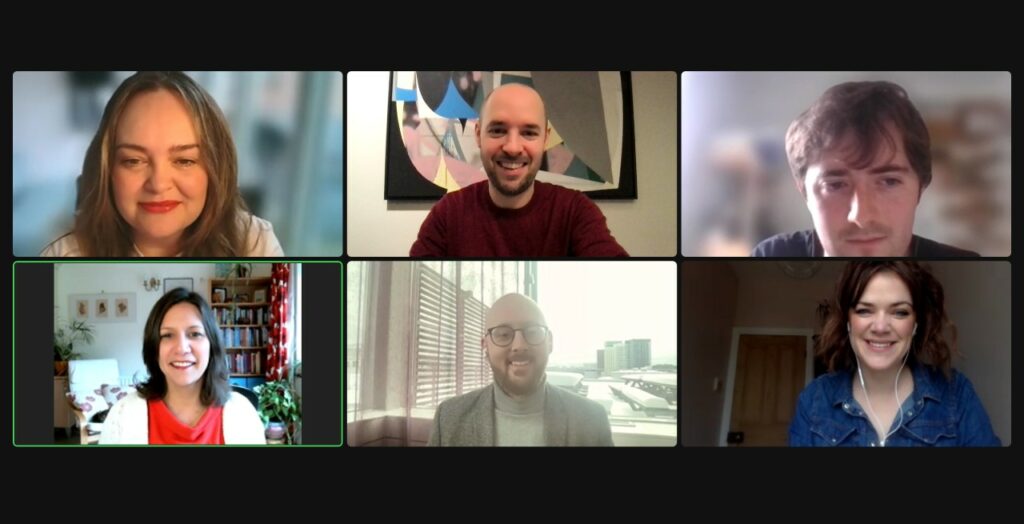 A big thanks to all our speakers at our latest event – Can AI help change behaviour for social good? in which we explored the intersection of artificial intelligence and social impact, and how AI can be leveraged to create positive change in society.
Our speakers came from a diverse range of professional backgrounds, providing a fascinating glimpse into AI and behaviour change from various perspectives.
Dr Stuart Mills
We kicked off with Dr Stuart Mills, a behavioural economist and author of AI for Behavioural Science, who introduced the concept of AI in a discussion with Ian. Prefaced with the fact that AI is over-defined, he said the AI we're dealing with right now is essentially a probabilistic prediction model; it acts as a sieve for data, predicting and selecting optimal outcomes. Stuart describes AI as an autonomous choice architect – and we're more familiar with this concept than we realise: a prime example being the recommendation systems on social media timelines determining what a user sees.
He also touched on the ethics of whether AI is biased. He said his biggest concern, however, is around people misunderstanding what AI is – it is ultimately technology designed by humans, and it should be seen as such, rather than a magic solution to everything.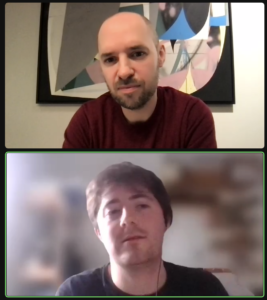 Samuel Salzer
We then heard from Samuel Salzer, a behavioural scientist and Claremont advisor on behavioural design, who talked us through how we can leverage generative AI tools for good. Referencing Lewis Carroll, he explained that the world of AI is progressing incredibly quickly: to stand still, you have to run; and if you want to get ahead, you have to run twice as fast.
Samuel showed us how generative AI can make literature reviews and behavioural interventions more efficient. He said that AI is able to help us reach our destination more quickly, but we still need to lead the way. Hence, his final recommendations: your output will only be as good as your prompt, don't use it for everything, and make AI do things for you, not think for you. Leverage the expertise you have, he said, but don't lose your process.
Dr Sheuli Porkess
Next, Dr Sheuli Porkess, Chief Medical Officer for Life Sciences as C2-Ai, gave a fascinating insight into how clinical AI-backed systems are helping hospitals and health systems reduce harm, mortality and cost. On the principle that no patient is average, C2-Ai algorithms provide deeper insights based on hospital coding data, providing information on health systems and helping clinicians and patients make better decisions.
One of the innovative examples Sheuli shared was C2-Ai's role in ameliorating backlogs caused by COVID: the algorithms have helped to risk stratify and prioritise waiting lists by giving a detailed view of clinical risk for each patient. This has led to less patient harm, fewer patient deaths, less time spent in hospital, fewer emergency admissions and fewer ICU admissions.
Dr Katie Russell
Our final speaker was Dr Katie Russell, Data Director at OVO Energy, where AI has been instrumental since day one. Not only was AI was used to determine how to encourage customers to opt into having a smart meter installed, but OVO use AI systems to reduce customers' carbon impact too. Using a suite of AI-powered algorithms, combined with things like weather data, OVO inform customers where their energy spend has gone and help them to reduce their energy consumption.
As well as that, OVO used AI to prioritise their most vulnerable customers during the recent energy crisis in several ways. For example, machine learning was used to improve customer data and identify those struggling, and amongst other things, significantly reduce their call wait times through a fast-tracking system.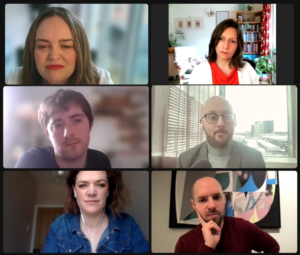 Q&A
In the Q&A, Sheuli and Stuart tackled removing bias and assumptions from data, Samuel spoke about keeping up with the latest AI news on habitweekly.com, Katie discussed starting small, thinking big, and scaling fast, and Stuart and Samuel considered how we can trust AI to summarise accurately. Finally, all panellists answered the crucial question, having established that AI can help change behaviour for social good: Will the benefits outweigh the dangers? Ultimately, panellists agreed that yes, they would, but the big players in this space have a responsibility to make sure these products are safeguarded and ethical.
Many thanks to all who came. We've uploaded a recording on YouTube for anyone who'd like to watch (or re-watch).